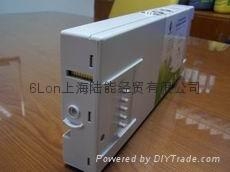 Mild series inks :

Vibrant, brilliant colors and Excellent color gamut
Completely free of Hazardous Air Pollutants (HAPs), as defined in the Federal 1990 Clean Air Act
Color and density consistency between different batches
Two-year outdoor weather resistance
Minimum maintenance whether the printer is in use or idle
No clogged nozzles thus ensuring excellent print quality on a wide range of vinyl and paper substrates
More than 18 months shelf time and less wear on the print heads
More Competively priced

Suitable printers:

Seiko 64s/100s
Oce6060

Operational Specifications:

Temperature:18 to 30°C/64 to 86 ℉
Relative Humidity:25 to 60% Non-condensing

Storage Specifications:

1. ink should be stored indoors at a temperature between 5 and 30°C
2.Eco Series ink shelf-life is 12 months, when stored as above.
3. Care must be taken to avoid contamination of inks and substrates.
4. Check that the preheat settings are as recommended.